Board one of our Dreamer Catamaran and cruise along the colourful coastline from Montego Bay to Negril, famous for its white sandy beaches and gorgeous sunsets.
Throughout this tour, you will experience the natural beauty of Montego Bay and Negril, which has often been rated as one of the top ten beaches in the world, time and time again.
We will cruise along the colourful coastline to Negril. Then along Negril's Seven Mile Beach  to Rick's Café for the sunset. It offers some of the best views of Negril sunset and the entertaining cliff divers.
During your sailing adventure, you will be invited to swim and snorkel from the front steps of the catamaran. Our friendly and professional instructors will guide and offer you assistance, as needed.
$10 Deposit
Reserve this tour by paying $10 deposit per person
Prices per person

Adults: USD $175.00
Kids (under 12): USD $130.00

New rates as of Nov 1, 2022

Adults $185 

Kids (under 12) $140

Above prices includes 10% GCT (General Consumption Tax)

Additional transfer charge for hotels outside of Montego Bay

Subject to change without notice

Kindly note: We strongly advise our guests to NOT dive or jump off the cliffs. Leave that to the experienced professionals).
In the event that sea conditions will not permit safe transfer from the catamaran to Rick's Café jetty, passengers will de-board at secondary location and transfer by bus to Rick's Café – prior to return transfer to Montego Bay and surrounding areas.
---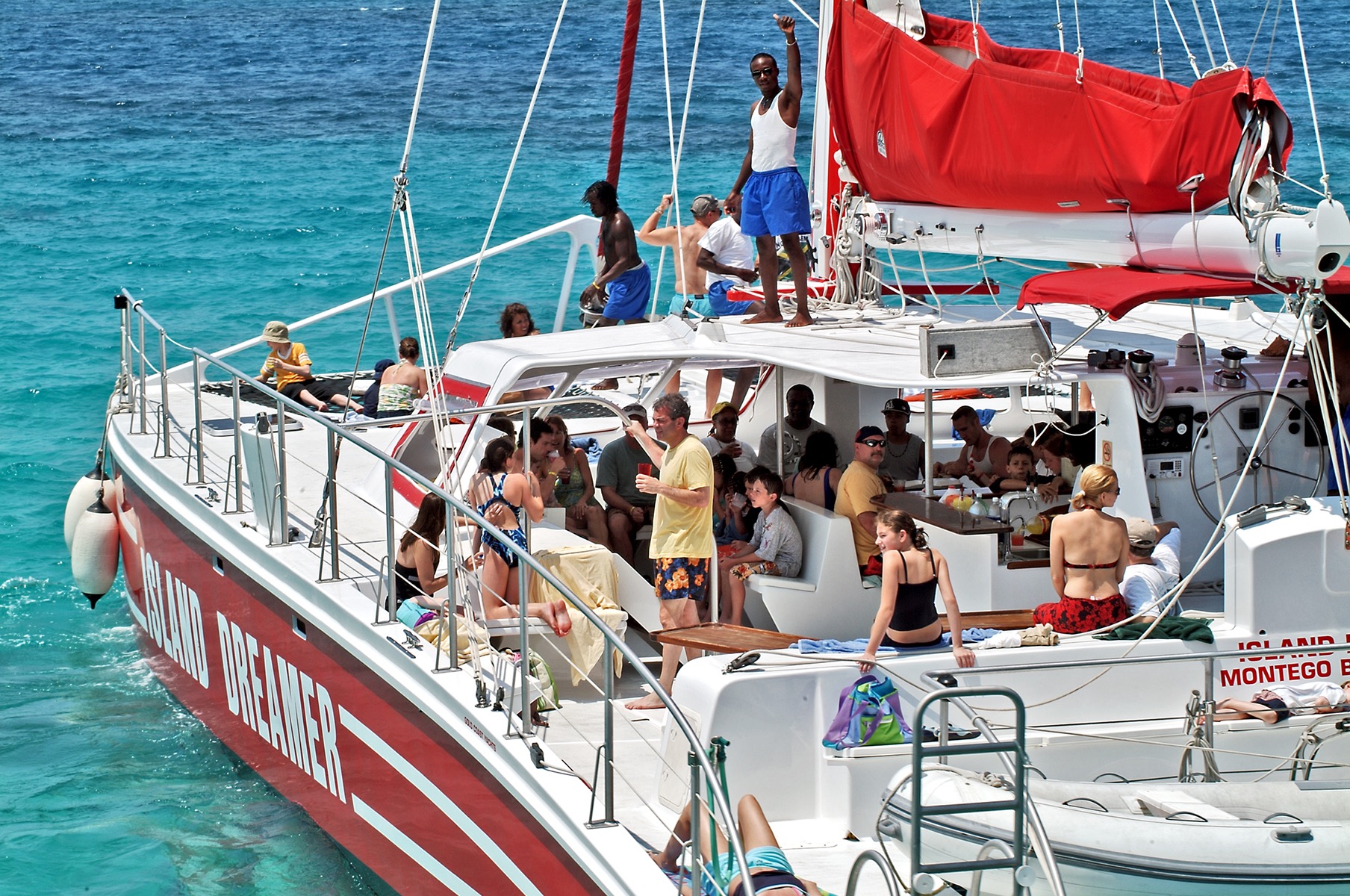 ---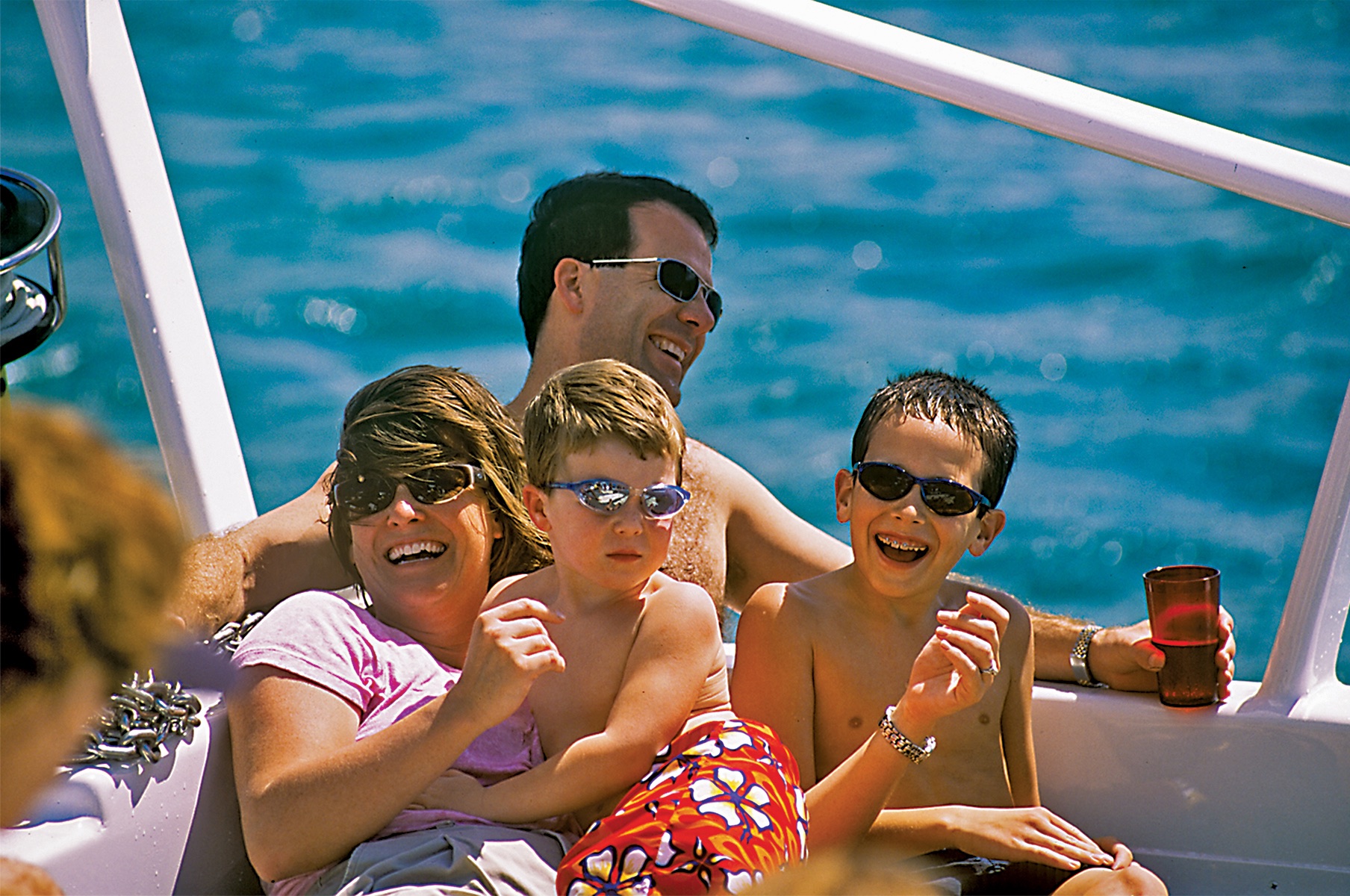 ---
The Dreamer catamaran was an excellent choice of excursions while docked in Jamaica. Even those who did not choose to snorkel had a wonderful time. The crew was very interested in making sure everyone had a good time. I'd recommend this excursion for all ages.

Dreamer Catamaran Sail and Lagoon Snorkel

Crew did a great job. Food, water, rum drinks and foot massage as well as the captain giving us a history and environmental lecture completed. The beautiful reef and fishes.

Montego Bay Sailing Tour Guest

It is a breath of fresh air to work with a vendor who is reliable, honest and understanding. Words are unlimited in describing the team at Dreamer Catamarans as they go beyond the call of duty to ensure that everything is done with excellence and expeditiously, always with the customer top of mind. The boats are of the best quality and kept in pristine order.

Myrtle Dwyer, Glamour Destination Management

As we got on the catamaran it was a perfect day. The staff were gracious and informative. We had a great sail to the snorkel site and plenty of time in the water. After snorkelling we had a tour of the bay and lots of rum punch and beer.

Great day of snorkeling!
Please enter your Access Token.
Let's Get Started (the process)
1. Choose your tour
Pick the tour you are interested in. Select the date for your  tour from the calendar. Let us know where you are staying and how many people will be in your group. Oh and don't forget to let us know how to reach you!
2. Save your spot (make a deposit)
Time to reserve your spots with a small deposit of $10 USD per passenger.  You'll be directed to PayPal to make this payment!
3. Our team will be in touch
Someone from our Reservations Team will get back to you to confirm your booking and get any further information from you we need!
Have a question?
Send us an email at [email protected] and someone of our Dreamer Team will reply to you.
If you want to book a tour coming up in the next 2 days, please call our office at (876)-979-0102.